Prof. Dr. Christoph J. Brabec
Prof. Dr. Christoph J. Brabec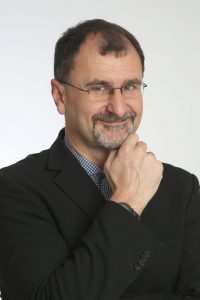 Organization:

Department of Materials Science and Engineering

Working group:

Chair of Materials for Electronics and Energy Technology

Phone number:

+49 9131 85-25426

Fax number:

+49 9131 85-28495

Email:

christoph.brabec@fau.de

Website:

http://www.i-meet.ww.fau.de/
Address:


Martensstr. 7

91058 Erlangen

Room 367
Publication list 1995-2018 (07.11.2018)
(see also Christoph's detailed publication list)
Curriculum Vitae
1995-1998: Appointment to the position of an assistant professor at the Kepler University of Linz, Austria
1996: Sabbatical at the Institute for Polymers & Organic Solids at the University of California, Santa Barbara
1998-2001: Principal Investigator (PI) at the CD Laboratory for Plastic Solar Cells, AT
2001-2004: Principal research scientist at Siemens, Erlangen, Germany
08/2004: Appointment to Director of OPV at Konarka Technologies, Lowell, USA
2005: Appointment to the CEO for Konarka Austria and Konarka Nuremberg
04/2006: Appointment to the CTO and Vice President at Konarka, Lowell, USA
since 2009: W3 Professor for material science at FAU Erlangen-Nuremberg – i-MEET
2009: Appointment to the scientific director of the ZAE Bayern, Erlangen
2009: Appointment as Executive Board Member of the ZAE Bayern
2010: Appointment as Board Member of the Energy Campus Nürnberg (EnCN) e.V.
2013: Appointed as Speaker of the International Center for Nanostructured Films (IZNF) at FAU Erlangen-Nürnberg
2013: Appointed as Head of Board of ZAE Bayern e.V.
2015-2017: Appointed as Head of the Department of Material Science at the Friedrich Alexander University Erlangen Nürnberg
Research Interests
Renewable Energies
Photovoltaics & Solar Energy
Production of Semiconductor Devices by Printing / Coating Methods
Combinatorial & High Throughput Research: Methods, Materials, Processes
Scientific Research Interest:
Research and development on organic and hybrid semiconductors, with a strong focus on the photophysics and transport properties of disordered semiconductors.
Development and investigation of organic and/or printed solar cells, with a strong focus on the development of novel materials, investigation of microstructure & morphology formation in organic semiconductor composites and on fundamentals of thin film solar cells.
Development of low cost production technologies for semiconductor devices, with a strong focus on printing and coating technologies.
Development of optoelectronic devices for renewable energy applications like (i) 3rd generation solar cell technologies (ii) lighting and (iii) light management.
Development and application of non-destructive imaging methods for optoelectronic devices, like EL or IR imaging.
Development of combinatorial & high throughput methods for the discovery of energy materials and energy devices.
Renewable energy systems and components for energy generation and storage.