i-MEET annual report 2022 is online!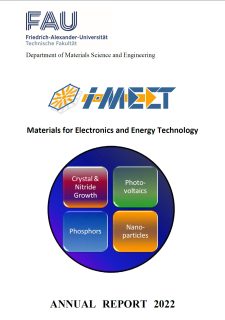 2022 was another year full of surprises and big events. The fight against Corona was so successful that the worldwide regulations could be taken back. Scientific exchange at conferences has become possible again, refueling our passion and fire for academic and applied research. Just when we started to enjoy the bit more of freedom, war in Ukraine restricted our life in multiple aspects. The corresponding energy crisis, the inflation, the support for refugees – that all has affected us privately but also in our professional life. The crisis further showed us the limitation of our energy system, which was believed to be globally stable while it actually was depending on single players. There is only one conclusion from that crisis – we need to rebuild our energy system under the aspects of national security and become more independent. Accelerating the build-up of renewable energy capacities is the only answer to that learnings.
At that stage I want to thank undergraduates, graduate students, staff, and group leaders for their fantastic accomplishments in 2022. Together we have accomplished a very successful year.
i-MEET is very proud of our students and postdocs. Nevertheless, it is always sad to see our most excellent researchers leaving. Yakun is building her career at KAUST, Xiaoyan and Yicheng have accepted calls for professorship positions to SDU and UESTC respectively, and, after so many years, Ning has accepted a professorship position at SCUT.
Many thanks to our NGSE team, Karen, Vincent, Ning and Jens who made this years NGSE a big success. Let me also acknowledge the NGSE early career presentation series, which was brought to life by Vincent. I want to thank Osbel and Karen for their efforts to coordinate the emerging-PV platform. The curated date set on record performing solar cells has made it into the second year and will be continuously expanded to new features.
Finally, big thanks to the Solar TAP team, who allowed us to win the outstanding prestigious Helmholtz grant on accelerating photovoltaics technology transfer into industry. Driving that project to the breakthrough we are envisaging will take all our resources for the next three years. Special thanks to our administrative team and our technical staff – without them, it would not be possible to run i-MEET that successfully. I would like to thank all of you, the cooperation partners and supporters of i-MEET for the successful cooperation in 2022 and hope you enjoy reading our activity report.