Saskia establishes her own research group "Novel nitride materials for electronic devices"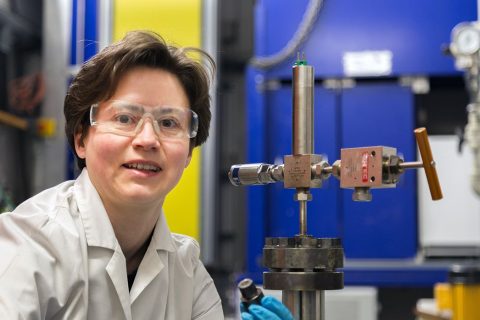 We are proud to announce that a new junior research group led by Dr. Saskia Schimmel has been established at the Department of Electrical Engineering at FAU as part of the Emmy Noether program run by the German Research Foundation (DFG). The program aims to give outstanding researchers the opportunity to lead a junior research group and fulfill specific teaching tasks, thus meeting the requirements for being appointed as a university lecturer.
A total of 1,320,000 euros has been approved for the first three-year funding period, with a total of 550,000 euros plus project lump sums earmarked for the second funding period, also lasting three years.
The research group's project will focus on developing innovative nitride semiconductors and gaining a deeper understanding of the manufacturing process using ammonothermal synthesis. The materials investigated within the project are potentially combinable, thereby creating new opportunities for creating devices. Dr. Schimmel's work aims to contribute to inventing innovative and more energy-efficient electronic devices and to drive forward fundamental research into the synthesis and properties of semiconducting nitrides.
We already miss Saskia and all the years we have spent together and cordially congratulate Dr. Schimmel on her new role. We look forward to seeing the exciting contributions she and her research group will make to the field of electrical engineering.
For more information see here.

Further information
Dr. Saskia Schimmel