Organic solar modules in the permanent exhibition of the Deutsches Museum Nuremberg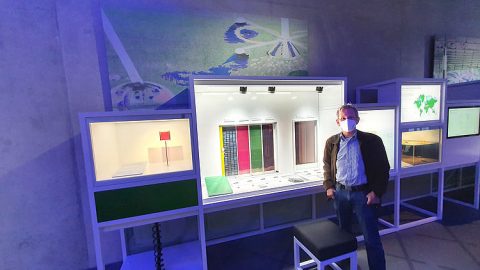 The German Museum Nuremberg – The Museum of the Future was ceremoniously opened in Nuremberg's Old Town on 17.09.2021. Through many hands-on activities, visitors gain an exciting insight into the future of technology and society. The museum is divided into five thematic areas:
1 Work and everyday life
2 Body and Mind
3 System City
4 System Earth
5 Space and Time
The Nuremberg Energy Campus is also represented in the Deutsches Museum Nuremberg. The pioneering printed organic solar modules from the solar factory of the future are represented in the museum with their own exhibits. Visitors can test how much light can be converted into energy and how the different colors of the solar modules affect energy conversion. The solar modules can be seen in the System Earth area.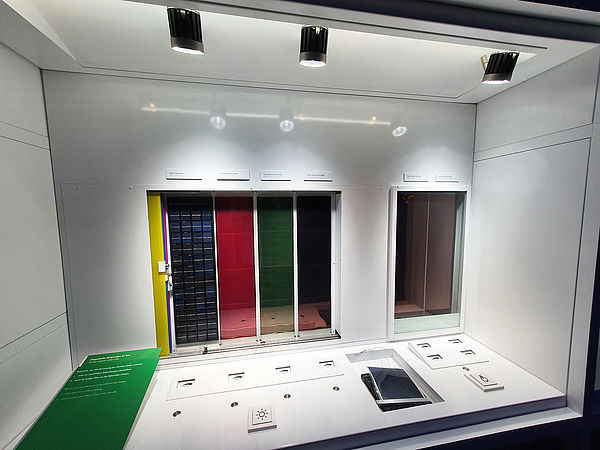 The installation on the left consists of a Si-module and 3 organic modules of different colors. By switching light sources of different colors on and off and by sliding different color filters in front of the modules, the effect of the absorption spectrum of the modules on the resulting power under specific illumination conditions can be investigated.
The installation on the right consists of two organic PV modules with different transparencies. Upon illumination, the module with higher transparency provides less power, thus demonstrating the law of energy conservation.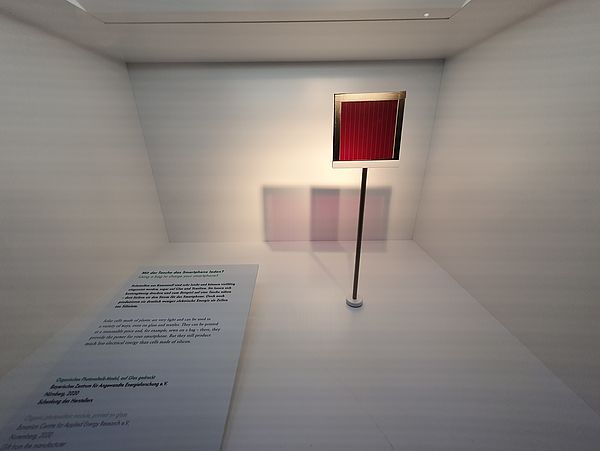 The module lying in front can be touched and bent to demonstrate the light weight and flexibility of the modules.